I cannot believe I am a week away from meeting my baby. Looking back and realizing I was pregnant during Thanksgiving makes it feel like I have been pregnant for a very long time, at the same time it has gone by so quickly.
Throughout my pregnancy I have blogged about what I am wearing (duh) and I gave some tips along the way on how get the most out of your current wardrobe. What I haven't talked about is how the pregnancy itself has been. I have decided to open up and share what life has been like that past 9 months. The past week I have been asked all sorts of questions about being pregnant with LeReve Baby, this perfect little boy that I have been taking care of, who will soon join the world.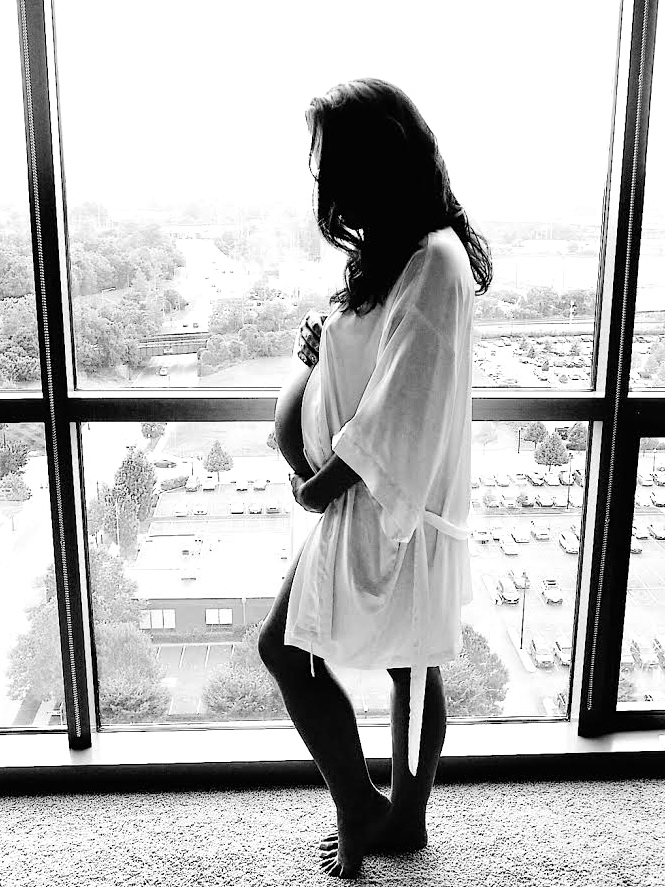 Before Michael and I got married we thought we would start our family during our first year of marriage. Not long after our wedding we realized how busy we had been and we both had a lot going on in our lives. We were lucky to have age on our side so we decided to wait just one year longer.
My husband travels so much for work it made me so nervous thinking I could go into labor when he is across the country and could possibly miss the birth of our baby. Therefore, I preferred to try and have a baby that would be born in the summer when his schedule isn't as busy. I also know how lucky a woman is to become pregnant and I reminded myself that there was no perfect time to be pregnant and to feel blessed for being pregnant in general. We were lucky and things worked out, LeReve Baby will be here this summer!
Now for your questions!
Q. Do you know the gender?
A. We are having a boy! I didn't want to know the sex of the baby because I thought the idea of finding out when the baby was born would be more exciting. I will admit, the day we found out we were having a boy was so exciting, I can't imagine if we had waited. Michael and I both felt we were having a boy, if the ultrasound tech would have said we were having a girl I would have been shocked!
Q. Do you know the name of your baby?
A. Yes we do. Some of you may have seen the name in this blog post from my first baby shower. We will be naming him Myles Alex Conley. My husband is Michael Alex Conley II and we thought about having our son be Michael Alex Conley III but I felt the names could get confusing and I don't want our child to feel pressured to be as successful as his father. Myles is a name we both liked and Alex is the perfect middle name because it is a family name.
Q. When is Myles due?
A. My due date is July 30th! I wonder if he will come on time??
Q. Were you sick during your pregnancy?
A. I feel very fortunate that I had zero sickness and no food aversions during my pregnancy. There was a little spell where I no longer liked celery, it was so bizarre. Some days I thought our dogs breath was going to make me sick. He would be so happy to see me, panting right in my face and his breath was just awful! Luckily, that only happened during my first trimester. Since I didn't have morning sickness that's one of the reasons why I felt I was having a boy. My mom and sister weren't sick with their boys and I thought maybe it ran in the family.
Q. Have you had any crazy cravings?
A. I don't think I had any crazing cravings. I did want chicken noodle soup almost every other day during my first trimester. It was winter and cold outside so I blame that for my craving but it could partially be due to the baby too 🙂 I have liked sour things more than usual, mainly citrus flavors like lime in my water, oranges, and lemonade.
Q. Have you had any weird symptoms?
A. Most of the symptoms I have seem to be normal pregnancy symptoms but are definitely weird to me. I started swelling during the last 6 weeks and can no longer wear my rings and flip flops are even tight on my feet! Quite a few of my moles got larger also which I was told is normal during pregnancy, I just hope they go back to their original size! I have had a few charlie horses in my calves through my pregnancy and for the most part every night my calves feel very tight and I need to stretch. I am told that is all normal.
Q. How did you stay motivated to wear cute outfits and not live in sweats?
A. Don't get me wrong, wearing sweats, especially while pregnant, is an amazing feeling. I wore them a ton and there were some days I knew I was not going to get out of them. In general, I really enjoy picking out my outfit and dressing nice. Dressing in regular (or maternity) clothes while I am pregnant actually makes me feel somewhat normal again. I feel very huge and pregnant right now and to put on something I think is cute and head out just makes me feel good.
Q. Do you have to exercise while pregnant?
A. Every woman and every pregnancy is different so it is best to ask your doctor if you are allowed to exercise and to find out why type of exercising you can do. It is extremely important to be healthy during your pregnancy. I was able to continue all of the same physical activity for the first 7 months I was pregnant, towards the end my belly has grown so much I feel it gets in the way.
Q. What type of workouts did you do while pregnant?
A. I am pretty sure everyone knows my love for Pure Barre. I have continued to do that while I am pregnant. I was able to complete their March Madness challenge of completing 20 classes in 31 days while I was 5 months pregnant. It was such a great feeling completing all of those classes and I felt very strong. Outside of that challenge I would go to Pure Barre a few times a week as well as Life Time to attend some of there strength classes. When I felt like I could no longer run I made sure to go on long walks to get some cardio in. I wanted to make sure my heart rate got up a little bit every day. This last month I have been going to a pilates instructor twice a week, taking the dog on walks (very slow walks) and swimming a few laps or treading water. I feel good as long as I am able to keep moving!
Q. Have you been extra emotional?
A. I am a very emotional person when I am not pregnant so I was a little worried how often I would cry, happy or sad, while pregnant. I'm actually surprised at the lack of mood swings I've had. There have been a couple situations where I have caught myself from over reacting and reminding myself I am being silly and my hormones are taking over. I have been more emotional with our dog, mainly because he has been acting out and getting into the trash which he NEVER did before. Then I yell at him and feel so bad for being mean, I cry. I cry a lot too, not just a tear. It is an awful cycle. He has been on a good streak lately so hopefully no more tears for punishing him!

I hope I was able to answer some of your questions!
This post has been really fun to write. Knowing my due date is around the corner it was nice to think back on the early days. Getting extra excited thinking my baby could be in my arms any day!
Live votre rêve!